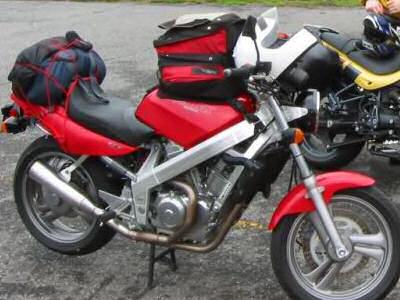 I don't blog too much about my personal life but this weekend was too great to stay silent.
My dad is an avid motorcyclist. At 65, he still rides one of his several motorcycles whenever it's not raining. Though he has a newer one, his favorite is his 1989 Honda NT650 Hawk, a V-twin.
Growing up with a father that loved motorcycles, I naturally gravitated towards them, and as a teenager I actually raced motocross for several years. And I have fonder memories of racing and all that went with it than of almost anything else in my past.
But with college and then starting a business I let motorcycles slip away for over 15 years. Then in early 2001 with some massive business uncertainties causing great distraction for me, my father talked me into attending the 2001 Atlanta bike show. There I fell in love with a KTM Duke, which I never purchased because it was too expensive, but I did soon get a Suzuki SV650. I kept the SV650 for a little over a year, then I sold to pay off debt to improve credit scores for a condo mortgage. The following January I went to the 2003 Atlanta bike show to see the new Suzuki SV1000. There instead I fell in love with an Italian; the Aprilia RSV Tuono 1000cc V-twin, which I purchased the next month: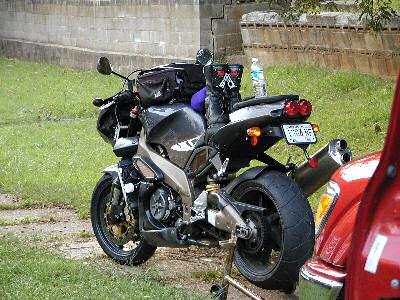 What's the Tuono like and why did I buy it? For those of you who know bikes, no need to explain. For those of you who don't, you wouldn't understand anyway. :-)
Back to my dad's Honda Hawk: the Hawk is a bit of a "cult" bike, so much so there is (at least) one major Honda Hawk website, several mailing lists for Hawk "Listers," and they have rallies many times a year at different locations across the USA. For the past three years I've attended the Fall Eastern Hawk Rally with my dad which has been held at the T.W.O. Campground in Suches, Georgia which is located in the North Georgia mountains. This year's Fall Eastern Hawk rally ran from Thursday September 23 through Sunday September 26.
The prior two years I had many worries related to my business, and though I went, I was far too keyed up, did not really get to know many people, and did not have the best time. I left late and returned early. Still, I went to spend time with my father. This year was different. I left with my father on Thursday at noon, and that evening we went for a short ride. The next two days we rode what those who attended the rally yet traveled from as far away as Maine and Wisconsin said are "the best motorcycle roads in the country" (meaning the roads in the Georgia/Tennessee/North Carolina triangle.)
The next two days my dad and I went on different rides; I with the faster group and he with the more laid back group. The leader of my group for both days was a road racer, but he is also very smooth and level headed. During those two days, what I learned from him improved my street riding skills immensely!
Did I break any speeding laws? Mums the word…
On Sunday we had breakfast, packed up, and said our goodbyes after the group photo:

As we drove south towards Atlanta, we pondered the question as to why we each enjoyed riding motorcycles. Other than the obvious; shared enjoyment of a common activity, his reason was he enjoyed getting away; it didn't matter where he was going, just that he was riding.
My reason was very different. When I raced motocross, I did so because I wanted to prove to myself I could accomplish something that was very difficult for me; to win the race. Though I got many 2nd through 5th place trophies over those years, I rarely won. Typically it was because I knew at least one of my competitors could beat me. At every prior race, I had been keenly aware of myself and my limitations. However, on this particular morning after practice my father asked how I thought I would do; I told him that I could beat everyone in my class, and I believed it.
A motocross race is comprised of two "heats" per class where class is usually engine size and skill level (i.e. 125cc A, B, and C; 205cc A, B, and C, etc.) The trophy winner is the one with the lower score. Ties are broken by the better scorer in the second heat. Thus a 3rd and a 1st would loose to a 1st and a 2nd, and a 1st and a 3rd would loose to a 3rd and a 1st.
My first heat on this day had my leaving the starting line 3rd. I slowly passed 2nd, and then 1st, and then I proceeded to add many bike lengths to my lead. I came in 1st that heat.
My second heat someone next to me on the start lost control and almost knocked me over. I entered the first corner with more than 20 racers ahead of me. That point forward until I crossed the finish line was lost to me; immediate after the race I didn't remember a bit of it. My father had to tell me about that heat after it was over. He said I passed two or three bikes in a corner up until the checkered flag fell, and I was one bike length behind the leader; I came in 2nd that heat. Unfortunately because I started so badly, I didn't win that heat.
But the winner of the second heat came in third the first heat. That gave me the win; I got the 1st place trophy. I had, for the first time in my life won a motocross race. And it was also the first time in my life I had been "in the zone."
Amateur racing is a community, and though you compete, you gain respect for the others and everyone I knew came up to congratulate me on what a great race I had run. Unlike any other time in my youth when I would have killed to be the center of attention, that day I didn't need to be. I appreciated they acknowledged me, but it didn't matter because I was completely at peace with myself. I had won the race, and I had done it with many odds against me given the lousy 2nd heat start.
That was also the first, and (by the way) the last, "perfect" day I have ever had.
So back the question: "Why do I enjoy riding motorcycles?" I ride because I want to get back in the zone. Last weekend in the mountain, after two full days of learning while riding behind a very good rider, I rode State Route 180 at full clip. I was riding at my edge and high on adrenaline, but I never felt out of control. I felt like I was back in the zone.
Well, I wasn't completely in the zone, but I did get close. It was an awesome weekend.