Post Meta Meeting
Tuesday December 3rd & 10th 2013
What
Where
Git on BitBucket

Example code:
Who
Mike Schinkel
Micah Wood (wpcholar)
Andrey (Rarst) Savchenko
Taras Mankovski
Why
We built a company's products

Platform for building large lawfirm website

Client didn't respond well to: "Well we can't (easily) to do"
Architecture
Focused on programmer productivity

Source code solution for version control
Sunrise was on 2nd generation code
ASIDE: We are now on 5th generation code style

Exo is an MVC Skeleton for WordPress, w/mixins

Not Forms/Fields, but lower level for MVC
Redesign of Sunrise would follow Exo architecture

Core OOP layer

Sitebuilder layer

register_form()
register_field()
Virtual Field Types

Themer layer
Admin User Interface
Should be able to completely replace metaboxes in admin UI

Especially Title, URL and TinyMCE editor

Most common use-case; a single metabox

Optional "modules" should be able to add to that metabox

vs. adding another metabox.

Adding to metabox is not hard with Sunrise architecture.
Storage Format
For Post Meta Key & Value
See SQL Query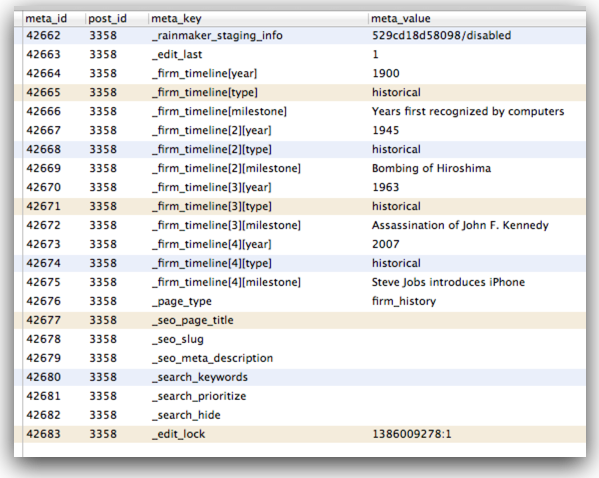 Field Features Objects
Fields generate collection of HTML elements.
Made sense to create "field feature" class to subclass because all shared so much code.
Entry
Label
Help
InfoBox
Message
get_field()/the_field()
Simple naming

Filters:

'pre_get_field'
'get_field'
'empty_field'
'the_field'

Virtual fields

Issue to address with naming conventions or $args type: Return values of string/numeric vs. object/array vs. HTML
Virtual Fields
Especially useful to output Schema.org valid markup
Postal Address: 'postal_address'

Stored as:

'street'
'city'
'state'
'zip'
'country'
Virtual Field Types
"Real" types defined by class
Virtual types based on existing type w/set of arguments.

Like cascading properties of CSS
Storage Types
Field storage defined by field, themer need not no storage location.
Meta storage
Core storage
Table storage (custom sql)
Taxonomy (term) storage
Future/Plugins

Pods
MongoDB
Redis
Amazon S3
Other…?
Dynamic Forms within Forms
Form Selector Field
One field could display a form within a field
Created a 'form_type' meta field to control which form type
Repeating Fields
Overuse leads to madness
Should support simpler use-cases
Repeating should be in core framework, not its own field type
Complex use-cases should use object/post relationships (hint/hint)
Other Considerations
Minimize nested arrays when initializing
Separate Declaration from Fixup
Multiple register_field() vs. one register_fields()
Then there is MVC + Mixins…
Demo Code