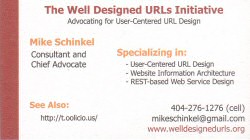 Wow! It's taken me a day to get over the exhaustion of Podcamp Atlanta 2007. Kudos to Amber, Rusty, and Penny and everyone else involved for pulling off such a great event.
So I sit down and sort through all the new business cards I collected, and it occurs to me that I can't remember half the people I spoke to by business card (the good news is I did remember the other half!) Which is when it hit me; why don't people start putting a photo URL on their business card? For example, here's mine (notice the Well Designed URL :-), but of course it's not yet on my business card:
Photo: /photo/
Of course, that begs the question of a Personal URL on a business card. A person's personal URL is a URL that points to their personal "About" page, and I think everyone should get one. Of course that URL should also have a photo:
About: /about/
Note My "about" page points to the "About Me" category on my blog, but I plan to write a good concise "about" page in the near future. And my next business cards will have my photo and my about URLs listed.